What Is Instagram Reels?
Instagram announced a new feature called Instagram Reels.
It's a brand-new approach to create 15 to 30-second videos with unique audio for a new Feed on the Explore page of the platform. Facebook's attempt to compete with TikTok, another popular video creation app, is Reels.

Facebook is attempting to incorporate the greatest aspects of Instagram's competition in order to build an all-in-one visual social media platform. After Snapchat dominated the market and attracted more users with its "Stories," Instagram took the first step and launched the "Story" feature. They're now employing a same strategy with Reels to get additional users from the popular TikTok app.
Instagram Reels is now available in over 40 countries and continues to expand as a result of strong feedback from influencers and regular users. So, let's have a look at what Reels are and how to make an Instagram Reel.
What Exactly Is Instagram Reels?
IG Reels, like TikTok, is a fun and creative method to produce short videos using unique technologies. You can quickly customize them by adding special effects, text, stickers, audio, and other videos. After that, anytime you're ready, you may share your Reels on Instagram's Explore Feed, Home Feed, or the new Reels tab, or on your Stories (with this option, you can self-advertise your Reels for 24 hours). As a result, your followers will be able to contact them whenever they choose.

You may uncover fresh material to like and creators to follow on TikTok's For You page. Instagram does something similar by displaying Reels on the Explore page. Instagram, on the other hand, can show you video clips from the artists you follow as well as other popular Reels and personalities on the network.

The algorithm behind Reels is a closely guarded secret, however it appears to be very similar to TikTok. Your basic app behaviors, like as content you enjoy, people you follow, location, and comments you make, have an impact on your featured Reels.
Reels is the perfect opportunity for you to show yourself to a new audience and maybe boost the success rate of your marketing approach, whether you're a casual artist or part of a brand's marketing team. Reels will undoubtedly assist you in gaining more likes and follows, as the IG community is massive, with one billion active users, roughly the same as TikTok users.
Try your best to get "Featured" with your original content and generate more interest by utilizing your skills!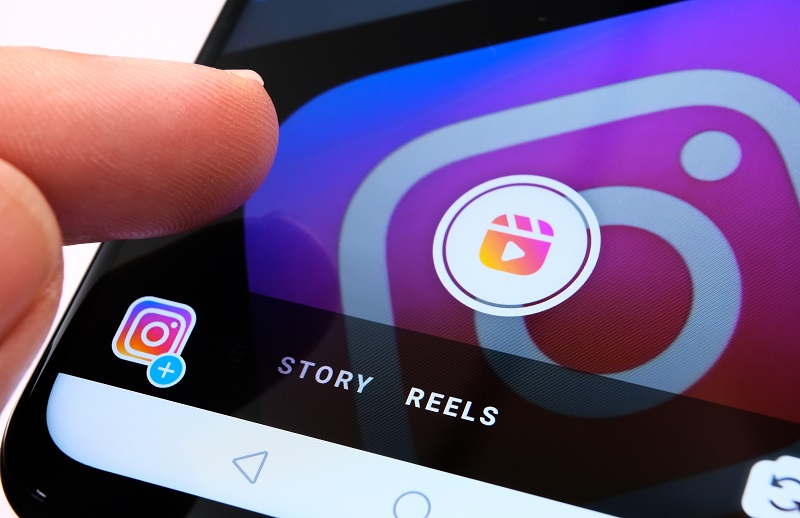 Creating an Instagram Reels
Now that we understand what Reels are, we can concentrate on making them. If you follow the methods outlined in this part, you will be able to simply share Reels and begin having fun and attracting attention with your newly made creative content! Here's how you can do it:

1) Slide to the Story camera in the Instagram app.
When you go to the Story camera, look for the Reels symbol near the Story choice at the bottom.
2) Produce your video.
Multiple videos can be shot and combined in your Reels. By keeping an eye on the progress indicator, you can keep track of how long your videos are going to be.
3) Make changes to your video.
You have the option of setting a timer, changing the video's pace, and aligning it.
4) Filters and music can be chosen.
To make reels, you'll need to use the Stories camera. Select filters and music from the tags before beginning to record your story.
5) Make a video and share it.
Sharing a reel isn't the same as sharing a story. You can add captions and hashtags if you want.
How to Get Engagement from Reels
Reels can assist you in increasing engagement and growing your Instagram account. You can gain comments, views, and likes just as with Stories and Posts. If you were one of the first people to utilize Reels, you're in luck.
Reels is a relatively new feature, and those who were among the first to use it were given the opportunity to display their Reels on the Explore Page. Since then, they've received far more views than anyone could have predicted. You can always catch up, though. To get to the Explore Page, buy Instagram Reels views.
You're not going to be late. The same can be said for Reels' likes. Because you didn't make it to the Explore Page, you might think your Reels don't have enough likes.